NEW! Advanced Technology Features for Professionals

●

Highest Output in Class – Equivalent to a 100W daylight corrected tungsten, only drawing 24W

●

True Color Dimming – 100% to 0 range without color shift

●

Superior Color – Vivid Colors, High CRI, Uniform Spectrum - Very pleasing and flattering skin tones

●

Efficiency for "Run-and-Gun" Video – Runs cool for over 4 hours on a single charge

●

Pure Pattern – Single Point Source –

Flat, smooth and most useable field of light.

Uniform edge to edge without pixelization or color fringing

●

Ultra Portable – Ultra Compact only 1 ½ " x 4" x 7" weighing only 1.2 lbs

●

Universal Power –

Anton

or V-Mount Type Battery Bracket - Clip-On AC Power Pack

. Other DC power configuration available.

●

Flexibility – Easily Interchangeable 24º, 32º, 50º LED Lamp Modules in Daylight & Tungsten Color

●

Easiest to Use - Setup and pack-up in seconds, self-contained, 5/8" stand-mount or handheld

●

Frezzi Durability – Weather proof, aluminum construction, no moving parts, silent operation

●

Complete Accessories – Barn Door with Filter, Gel Packs

Now in use with virtually all major broadcasting television networks...

"A single source compact high CRI light with the added bonus of being made in America is a perfect addition to our kit. HyLight is what we have been looking for in a LED light."
Mark LaGanga DoP
Dan Rather Reports / HDNet

"I can think of a hundred uses for this light"
Sports Net Photographer Bret H.

"I've been looking all over for a solution like this for years"
Chief Photographer - Robert M. Philadelphia TV Network

NEW! HyLight Accessories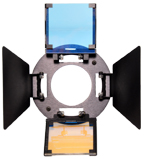 The HyLight Barn Door/Combo Color filter solves all lighting control needs. Instant and accurately change color temperature
to 3200K or 5600K with precision optical dichroic glass. Unlike film gels that absorb light and reduce output, dichroic glass correction filters are highly transmissive with fractional stop loss when correcting color temperature.

Control spill and put light where you want it with adjustable side ears. Accessory can be freely rotated 360 degrees.
Model Number: HLBD-C (99015)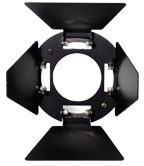 The HyLight 4 Leaf Barn Door enables full spill control for the HyLight.

Full rotation 360 degrees.
Model Number: HLBD-4 (99016)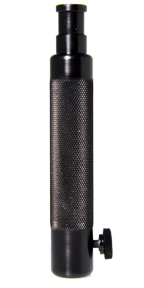 Go from stand to hand in seconds with the HyLight Hand Grip.
5/8" hole on the bottom with lock allows easy stand mounting.
Simply unlock from the stand and it's a hand held sun gun perfect
for "Red Carpet" type shooting. Over 4 hours run time with
light-weight FLB-100 Battery attached. No more battery belts!
Now in use with the popular network morning shows and ENG crews.
Model Number:
FLH-102 (96312)
Frezzi HLK-2A Dual Head Travel Kit - Light More... Take Less!
Everything needed for a two head, battery or AC powered shoot. Small and compact carry-on sized case weighing only 25 pounds comes complete with everything shown. Designed for news gathering, field production and location lighting when you need to light more while taking less. Batteries are the worlds most powerful legally transportable broadcast batteries and AC power supply is universal input for worldwide use.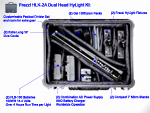 Click image for larger view...