NEW! Frezzi Micro-Fills and Micro Sun-Gun HMI's
Frezzi's award winning family of on-camera lighting now includes a new line of smaller quartz and HMI lights tailored to today's smaller cameras. With the ever increasing popularity of Mini DV cameras, the demand increases for smaller, lighter weight, and energy efficient lighting. Frezzi answers this need with a professional line of ultra small quartz and HMI on-camera lighting. These include the Standard (on/off) and Dimmer Control Micro-Fills, and the world's smallest HMI, the Micro-Sun Gun.
The new Micro-Fills and Micro-Sun Gun HMI's are available with all of the commonly requested connectors, and come complete with mounting hardware and bulb. These great new lights weigh less than 6 ounces and are half the size of a standard Mini-Fill.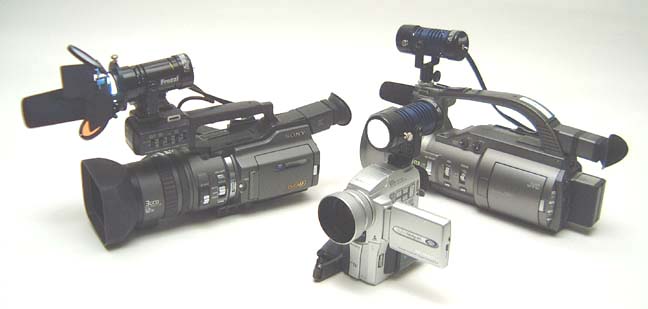 Micro-Fill and Micro-Sun Gun HMI Shown On Various Small Cameras
STANDARD MICRO-FILLS: (ON - OFF switch 20W or 35W Bulb)
Item#

Model#

Description

91301
MRF-NP1

with NP-1 connector and 4 foot cable

9

1302

MRF-NP1S

with NP-1 connector and 2 foot cable

9

1303

MRF-

PTS

with power-tap connector and 1 foot cable

9

1304

MRF-

4X

with XLR-4(M) connector and 4 foot cable

91305

MRF-

5X

with XLR-5(M) connector and 4 foot cable

91306

MRF-

PT

with power-tap connector and 2 foot cable

91307

MRF-

12P

with cigarette plug connector and 4 foot cable

91308

MRF-

12C

with BP-90 socket connector and 4 foot cable

91309

MRF-

12S

with BP-90 plug connector for Pag-Lok and 2 foot cable
DIMMER MICRO-FILLS: (Dimmer Control Knob switch 20W or 35W Bulb)
Item#

Model#

Description

91

4

01
MRF

IC

-NP1

with NP-1 connector and 4 foot cable

9

1402

MRFIC-NP1S

with NP-1 connector and 2 foot cable

9

1403

MRF

IC

-

PTS

with power-tap connector and 1 foot cable

9

1404

MRF

IC

-

4X

with XLR-4(M) connector and 4 foot cable

91405

MRF

IC

-

5X

with XLR-5(M) connector and 4 foot cable

91406

MRF

IC

-

PT

with power-tap connector and 2 foot cable

91407

MRF

IC

-

12P

with cigarette plug connector and 4 foot cable

91408

MRF

IC

-

12C

with BP-90 socket connector and 4 foot cable

91409

MRF

IC

-

12S

with BP-90 plug connector for Pag-Lok and 2 foot cable
MICRO-SUN GUN HMI'S: (Daylight Color Balanced 5600K at 10W)
Item#

Model#

Description

9

28

01
MR

A

-NP1

with NP-1 connector and 4 foot cable

9

2802

MRA-NP1S

with NP-1 connector and 2 foot cable

9

2803

MR

A

-

PT

with power-tap connector and 2 foot cable

9

2804

MR

A-PTS

with power-tap connector and 1 foot cable

92805

MR

A

-

4X

with XLR-4(M) connector and 4 foot cable

92806

MR

A

-

5X

with XLR-5(M) connector and 4 foot cable

92807

MR

A

-

12P

with cigarette plug connector and 4 foot cable

92808

MR

A

-

12C

with BP-90 socket connector and 4 foot cable

92809

MR

A

-

12S

with BP-90 plug connector for Pag-Lok and 2 foot cable
Item#

Model#

Description

9

6401

MR

FA

Micro-Fill accessory includes: barn doors, dichroic filter, diffuser

9

6402

MRAA

Micro-Sun Gun accessory includes: barn doors, CTO filter, diffuser

96403

MRDF

Micro-Fill dichroic filter only

96404

MRAF

Micro-Sun Gun CTO filter only

96405

MRSB

Soft Box for Micro-Fill or Micro-Sun Gun

9

4111

M1000

1 channel universal fast charger/discharger with battery rescue

9

7011

FTH

Spare 35 watt quartz bulb

97012

FTD

Spare 20 watt quartz bulb

97105

FAB-10

Spare 10 watt HMI bulb

96316

FDSA

Dual Shoe Adapter adds an addition shoe to camera with extension arm